Adaptations/libhybris/Install SailfishOS for grouper
From Mer Wiki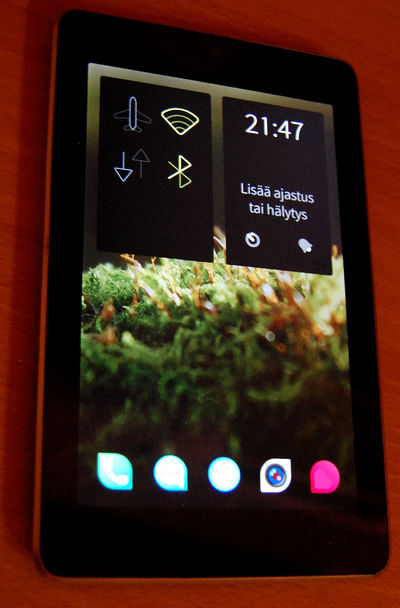 Steps to install
Install adb and fastboot on your workstation :

Debian/Ubuntu: apt-get install android-tools-adb android-tools-fastboot
Fedora: yum install android-tools
Mageia: urpmi android-tools (included in upcoming relase of Mageia 5).
OpenSUSE: zypper in android-tools
Mac OS X: Install Homebrew from http://brew.sh/, then: brew install android-platform-tools
Windows: See http://wiki.cyanogenmod.org/w/Doc:_fastboot_intro for instructions
Reboot the device and it should boot to Sailfish OS. If the device shows Google logo for 4-5 minutes, do a reboot using power button.
On startup wizard skip jolla account creation / login to jolla account. It will not work on this release yet.
After internet connection has been first time establised open Warehouse and select Check for updates from pulley menu
Hardware Support
For current status of hardware support refer to https://wiki.merproject.org/wiki/Adaptations/libhybris
Known Issues
Microphone not working
GPS not working in gui
Background image in ambiences does not show in home screen/main menu
Jolla account registration fails => Jolla store not working.